Last Sunday after church service, I was wondering around the street on the way home (walking), then food hunting crave strikes onto my mind.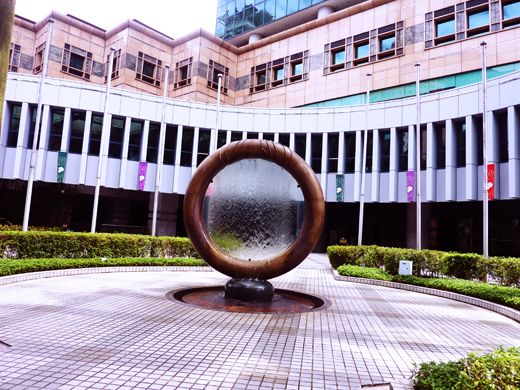 Came by this interesting ring-shaped water fountain, it's interesting for me la. I think the building behind is call Revenue House (googled) which deals with the Inland Revenue Authority of Singapore. I sound so knowledgeable lolz.
Then next I see Novena Velocity, Singapore, they call it 'the dedicated sport mall'. Which at first, it comes to my mind the formula of velocity =.= I know it's lame, but yeah that's what I thought lolz.
So I crossed over the road to Novena Velocity.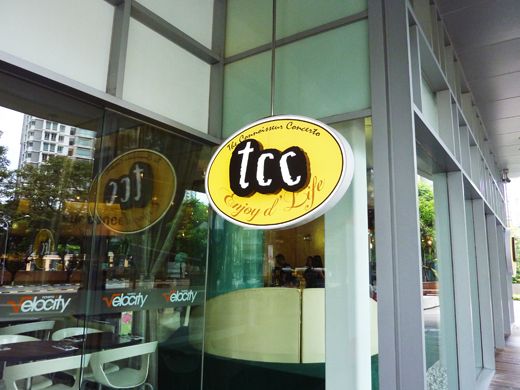 I realise that there's quite a lot of The Connoisseur Concerto aka tcc (googled) around Singapore, such a difficult name for me, but sounds very high standard o.o They focus more on quality of the coffee other than food. So I thought the price of the food would be around the average which is manageable to dine in by most of the average people like me. Too bad, I was wrong T.T Very mahal indeed. But still most of the people prefers quality over price, which resembles the lifestyle of people in Singapore.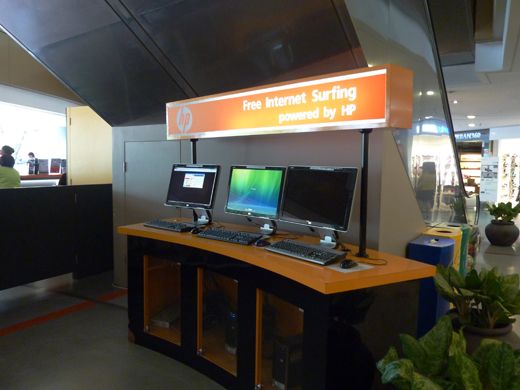 Free internet surfing in Novena Velocity?! Freeeeeeeee?? I'd probably take a chair and have a sit in front of the desktop and start blogging. Very good facility provided indeed :)
Then I smell something nice not very far away from me, the pleasant aroma fished me to
"The Soup Spoon" Restaurant, once got the 'Promising Brand' Award at Singapore Prestige Brand Awards 2009.
Yes, with soups and spoon. Lots of soup. So I decided to have my lunch here, because I love drinking soup.
Guess which soup I ordered?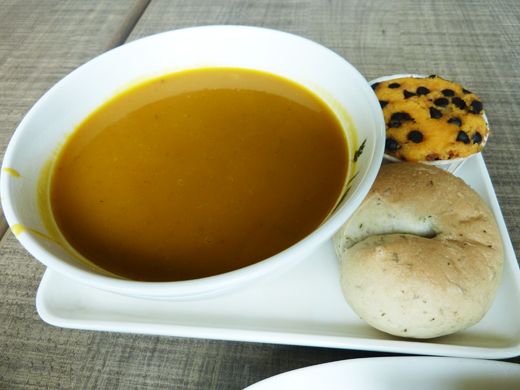 It's pumpkin soup with bun and muffin! I remember that there's one crazy period when I crave for pumpkin juice almost everyday! Steam the pumpkin and then blend then gulp, steam the pumpkin and the blend then gulp...
Together with the main course, Smoke salmon sandwich with coleslaw.
It's quite a big meal for me, you know it looks kinda weird for me alone, eating with a big portion of meal in front of me, it's like I've just encountered some emo stuffs, being abandoned or dumped by boyfriend or any other miserable events. To comfort myself, I stuff myself with all this food just to make me feel better. In fact, I'm not, I'm just being.... hungry deshu.
Good news, God knows I'm alone and He brought some friends to accompany me :D 2 of my church friends unexpectedly came to The Soup Spoon restaurant for lunch too! Of course, I had them to sit with me :)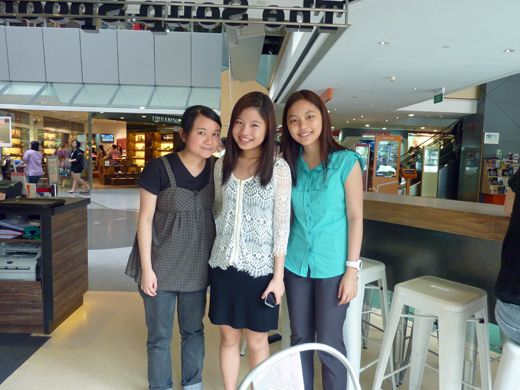 It's a waste if there's no group photo to be taken aye? Thanks to the kind waitress of The Soup Spoon (I have to mention the name in full, just in case someone google search for "Waitress of The Soup Spoon", wanna let them know how nice service they provided lol).
Went for cinema at Shaw Plaza the other day, and yes, I have finished watching my korean series T.T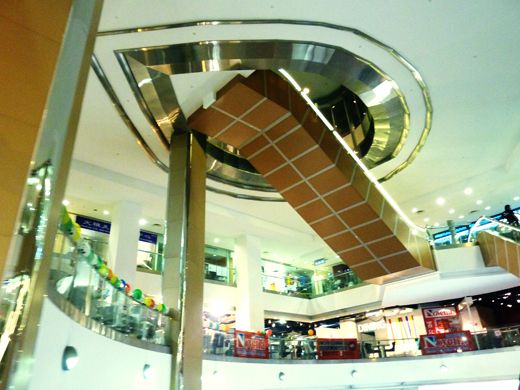 Their elevator to cinema level is kinda special. Just like the one at Lido of Ion Orchard.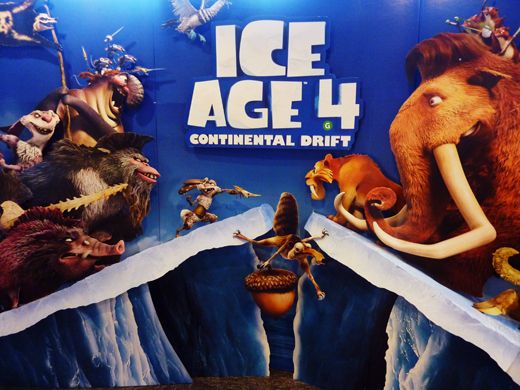 Ice Age 4! It's so funny that I laughed so hard in the cinema. Nyeh since no one knows me there wahaha.
And the awesome things I wanna tell you about the cinema in Singapore is....
They have IMAX!!!!!!
BIG SCREEN!!!!!
COMFY SEATS!!!!!
AWESOME SOUND EFFECT!!!!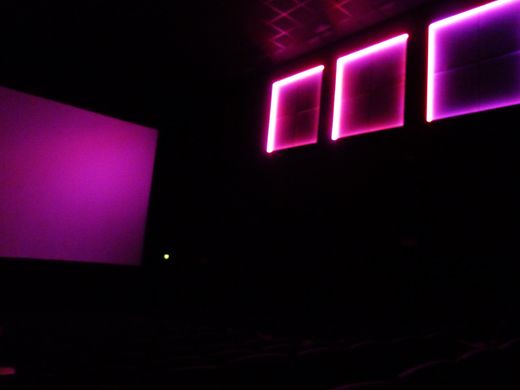 Cant't snap during the movie tho, scare later kena caught, take me as crime victim who trying to record the movie illegally.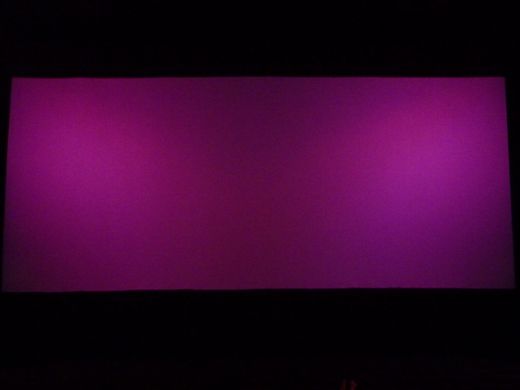 Big Screen! Can fit in 1098 Vicky's heads.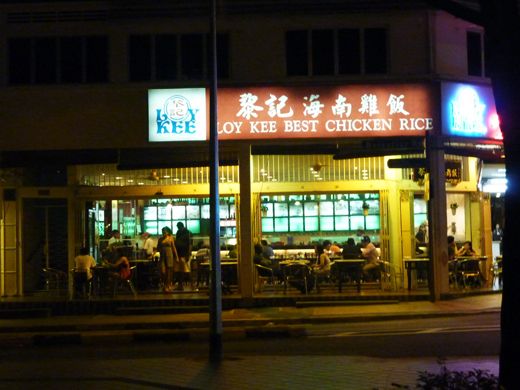 As you know one of the famous food in Singapore is Singapore Chicken Rice right? It's normal for you too see lots of chicken rice restaurant almost every streets of Singapore.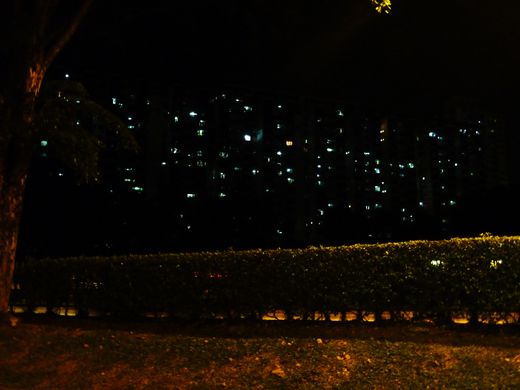 Night view of the apartments nearby, just like the stars in the sky awww :)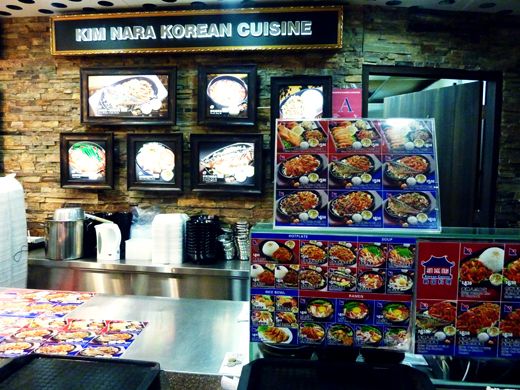 Was having lunch at Subway, The Centrepoint the other day. Never know I can have $4 meal this day, which is counted as cheap already T.T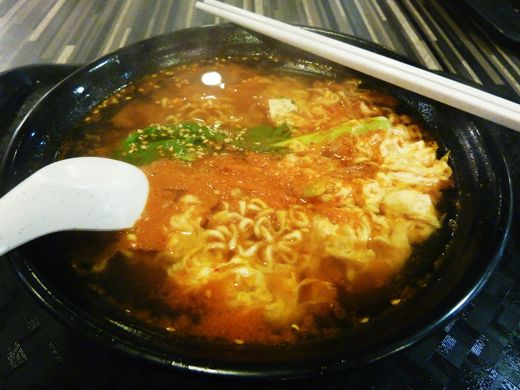 Kimchi Ramen yo! Delicious :P
Ok I should start my blog on outing with Angel, one of my friend in Sibu, Sarawak. Didn't know we can actually meet up again after so long! Like 4 years already? Whou. We meet up at City Hall station.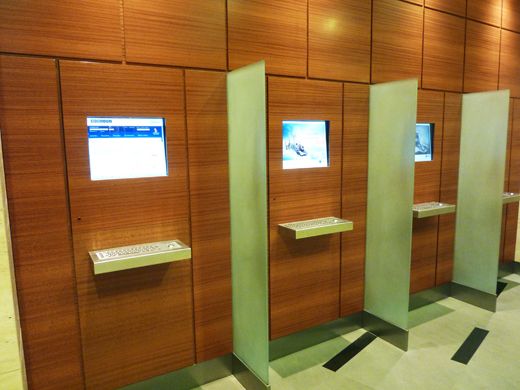 Err this is random but I came across this and YES! Another free internet surfing area O.O Wondering why no chairs?
Me and Angel had our dinner at Out Of The Pan of Raffles City, famous by it's special delicious crepe.
Angel's red skin potato salad.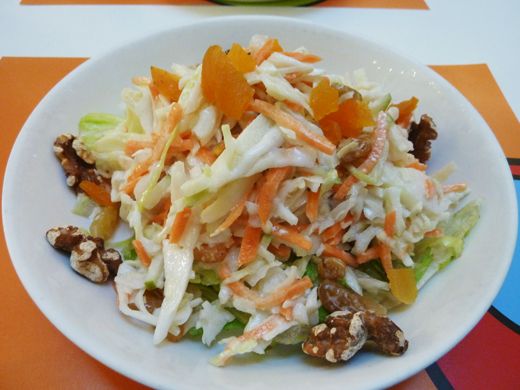 My coleslaw with walnuts, obviously a large portion of coleslaw O.O Even though we share our dishes, we can barely finish them.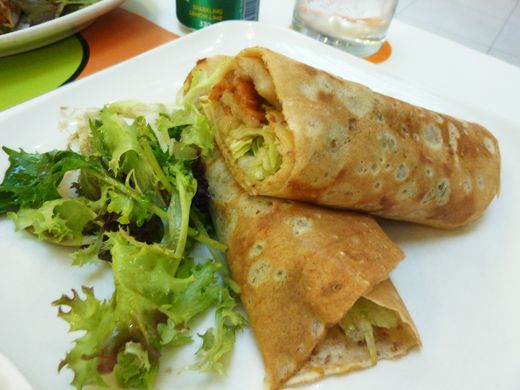 Nyonya-styled Fish Crepes. Two words, Super Delicious!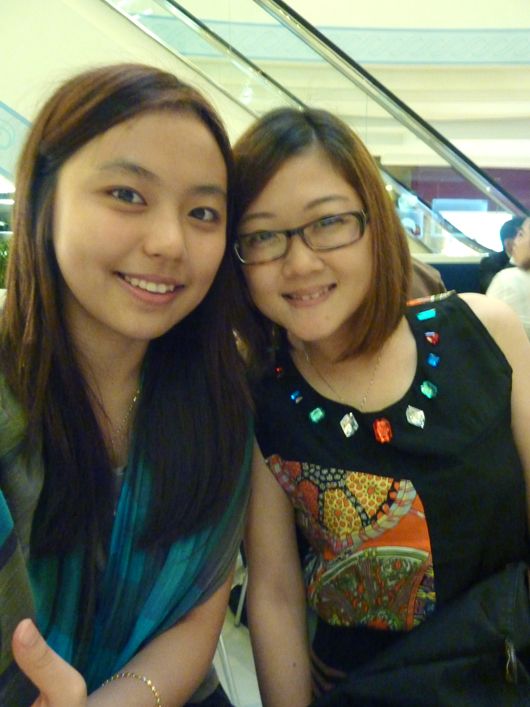 This is me and Angel. She looks uber cute with her short hair :D
After dinner, we went to Esplanade Singapore and Marina Bay.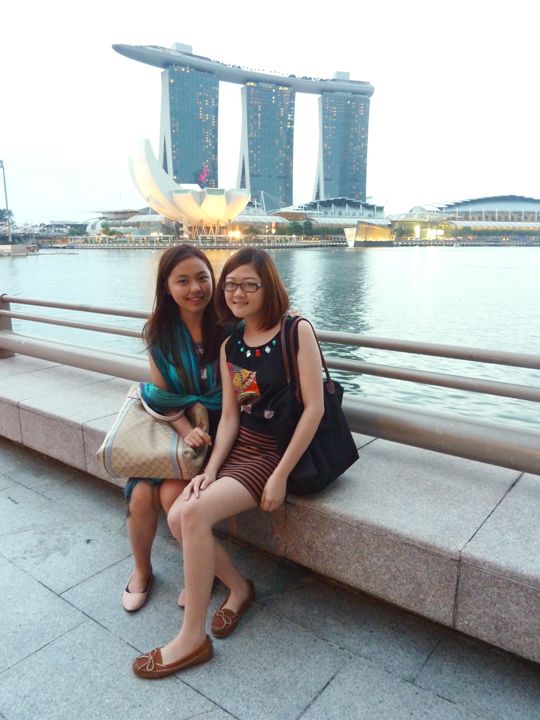 Look! It's the big-ship-on-top-of-3-buildings behind us. When I google search about this Marina Bay, one funny comment came accross and make me burst into laughter. One asked that why the ship is put on top of 3 buildings, then the other answered: "So when the earth floods, everyone in the city wealthy enough to not drown can climb aboard and survive the catastrophe. =]" Suddenly I think of Noah's Ark I dunno why. Hmmmm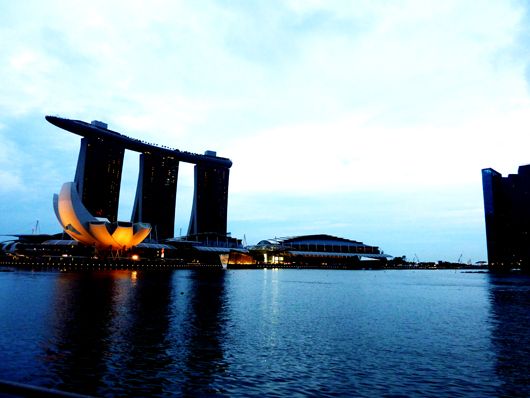 Let me ask you, what can you see from these pictures from the wall?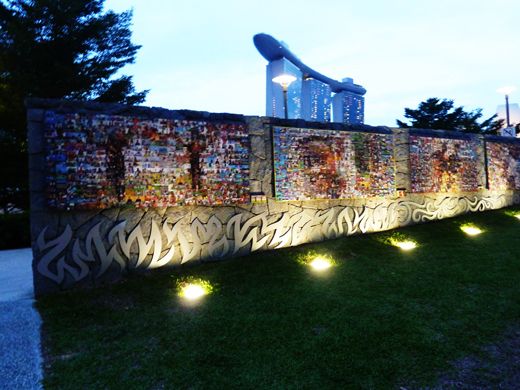 The first left showing 2 football players showing both of their hand up right?
BUT!
When you get closer...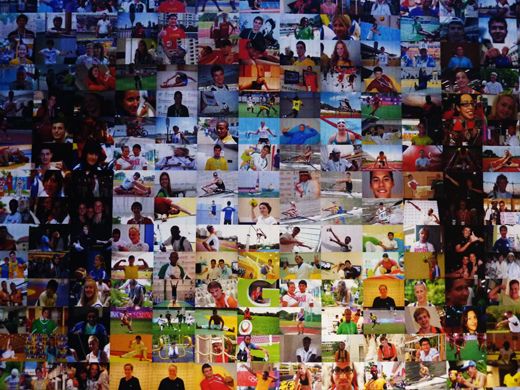 It is actually made up by thousands of photos! Incredible isn't it?
Oh yes, we're getting closer to Marina Bay yo
Singapore Flyer, world largest observation wheel. Its slogan is a moving experience at every turn, a must try if you really wanna get experience from Singapore trip. Didn't manage to ride on it because of limited time. It would take 30 mins to get one whole turn to finish.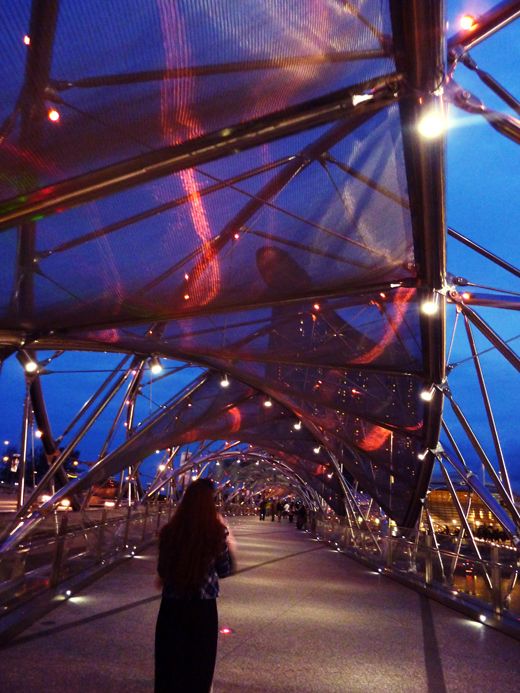 Path way to Marina Bay, a lot of people likes to jog here, seriously a lot, where I can hardly find any in Orchard area. Full of motivation here, I wonder when my exercise engine will start again, too rusty liao T.T
The lotus-liked ArtScience Museum of Singapore. I'm so curious of what's inside it! Heard that there will be an exhibition or something held at this place soon, gonna visit if I have the chance :)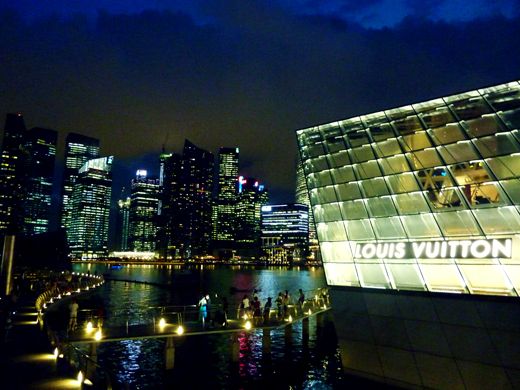 Louis Vuitton and the view of whole Singapore accross the river. You see a bunch of people on the bridge? They're photoshooting their pre-wedding pictures! I know I know, it's a perfect place indeed!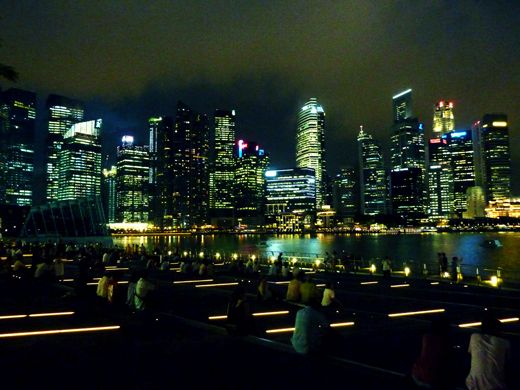 Trying to shoot a perfect picture like those pro photographers, Epic failed T.T I never know I have been walking among these tall buildings for weeks! So cool.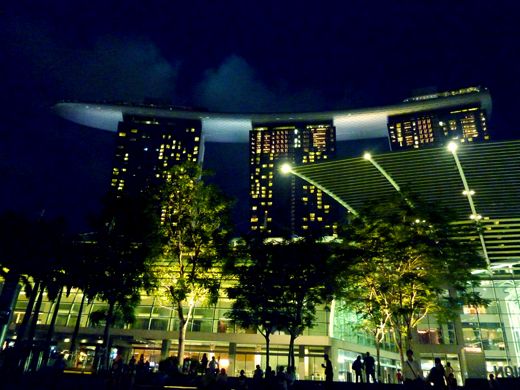 Bottom view of Marina Bay Hotel, Massive!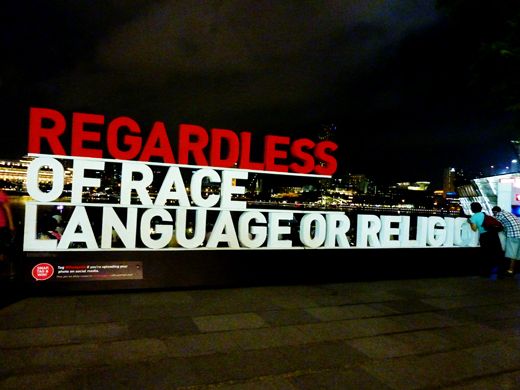 Oh yes, this is the famous Singapore National Pledge. "Regardless of race, language or religion" They are free from racism yo!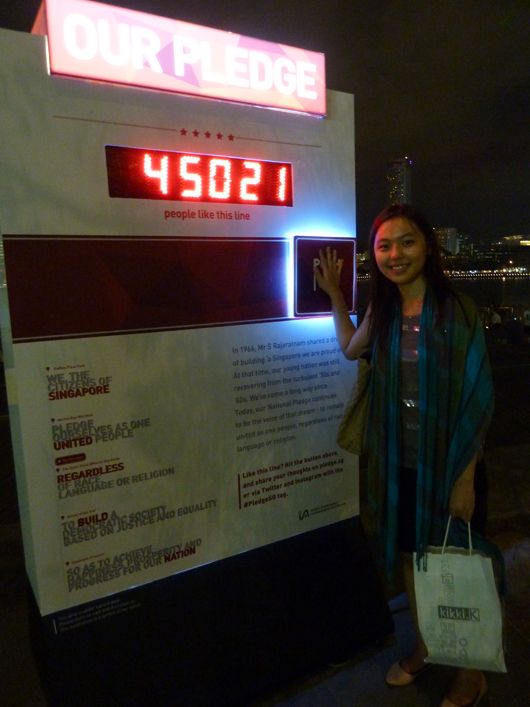 Erm, this one actually for Citizen only... I... Err... ok I pressed it T.T Sorry. When it comes to the conclusion for this counting machine, just remember to minus 1.
Shopping Mall near Marina Bay Sands. FULL of EXPENSIVE BRANDED SHOPS!
Can see from window only #windowshopping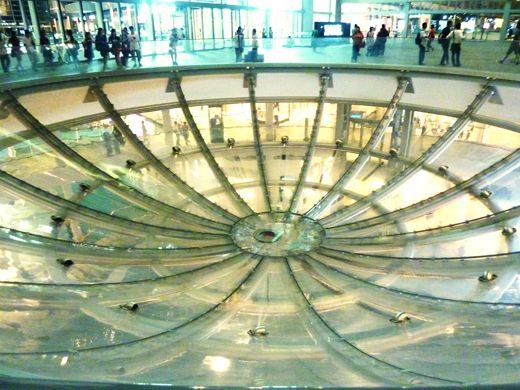 This is a very unique design sculpture, giant water basin, hmm most people call it giant bowl, but bowl where got hole in between one?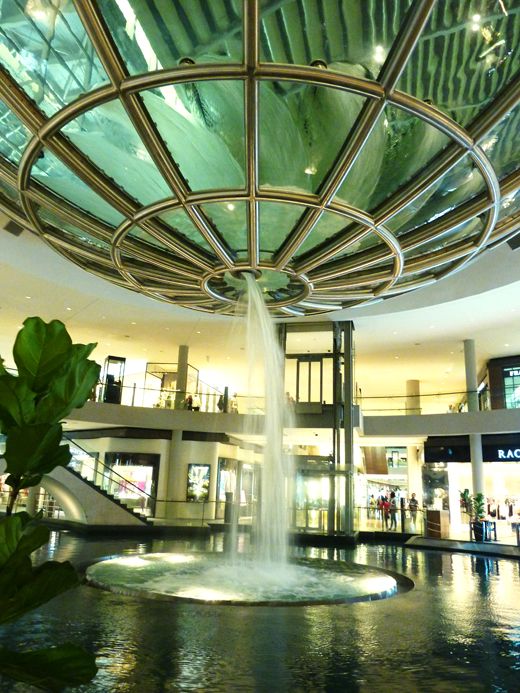 Way too amazing. How can I think of something so cool like that? Water flows through the hole into the atrium. It's actually named Rain Oculus from the article I read in google.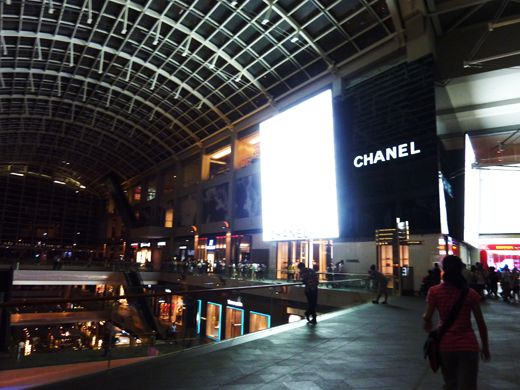 It looks kinda dark in the shopping mall at Marina Bay Sands, but still the 'expensive' luxury boutiques and outlets never fail to shine like star in the dark sky. Chanel as for example.
Another view of the shopping mall at Marina Bay Sands.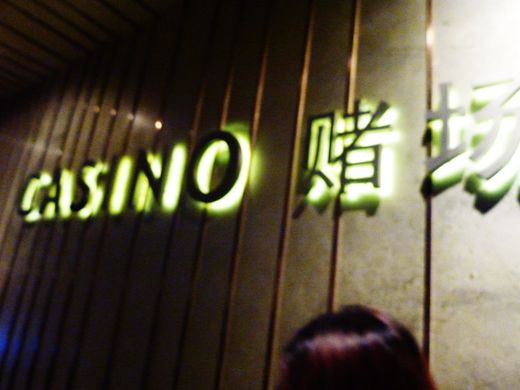 I know what you are thinking! No we did not enter into the casino, neither do we gamble. Just ... passing by.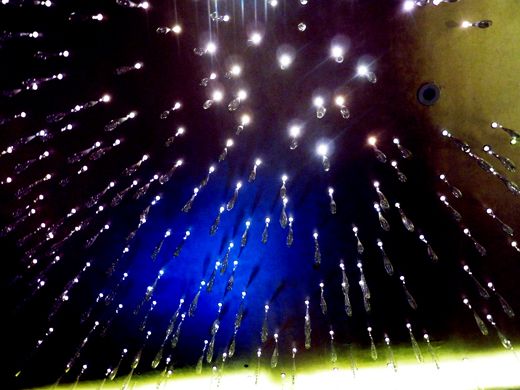 Beautiful ceiling of hall OUTSIDE the casino.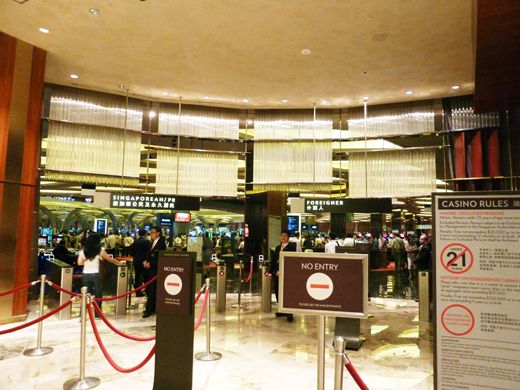 Body guards are guarding outside the casino. See the board? 21 and below are not allowed/eligible to enter the casino. Ahem... what is my age again ah?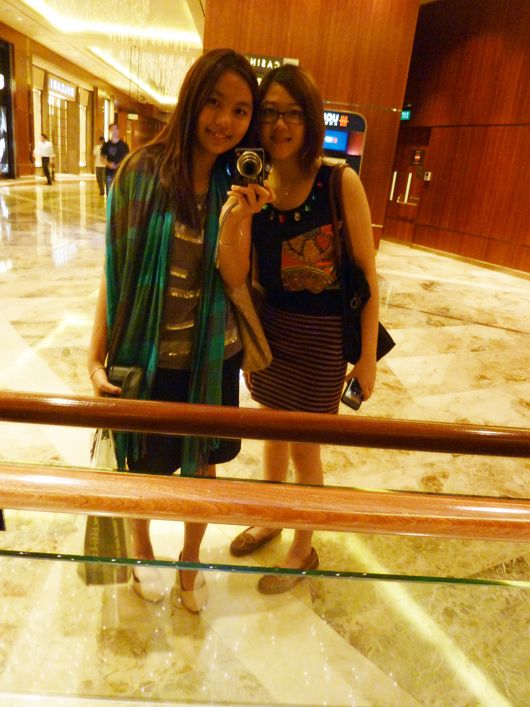 Took a photo with Angel on the mirror OUTSIDE the casino.
We stay OUTSIDE the casino not long.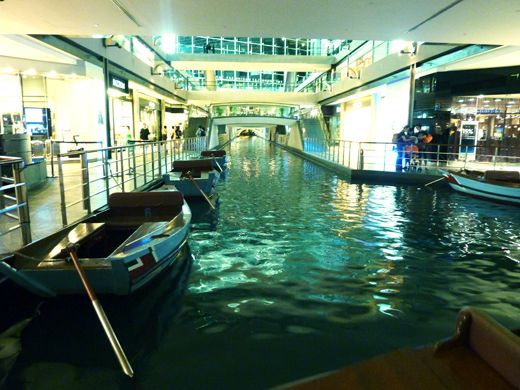 Beautiful romantic sailboat service in the building, too bad it just sail back and forth of the shopping mall, $10 per person.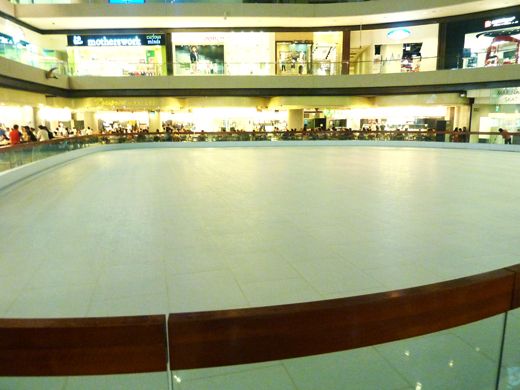 Ice skating, wait, should be wax-skating rink in the shopping mall of Marina bay Sands. Brunei also got one, but 1/8 of the size of this one. Very big!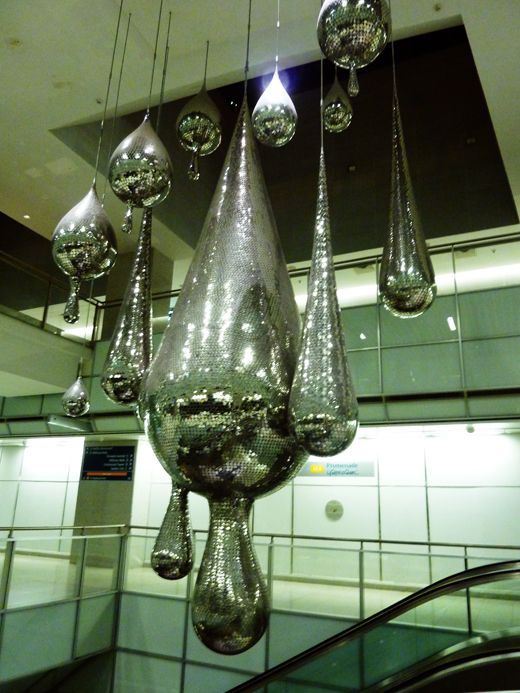 After then, we went to Clarke Quay, took this picture at the MRT station, still finding the bottom-most 'drop' weird...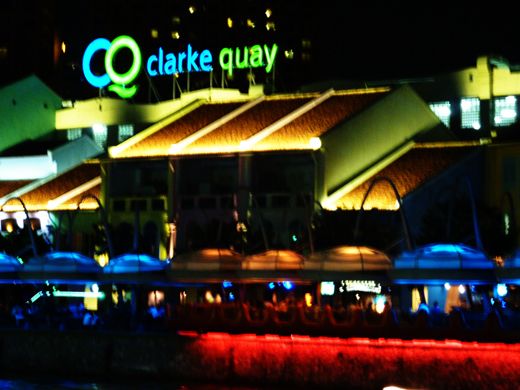 From the information I've obtained, Clarke Quay is an area where most of the clubs and pubs are located, mostly on the riverside. Lots of Ang Mo and foreigners hang out around this area, and lots of couple too, despite from the romatic environment I guess :)
Didn't enter this shopping mall (The Central Shopping Mall) tho, it's kinda late already. So we move onward.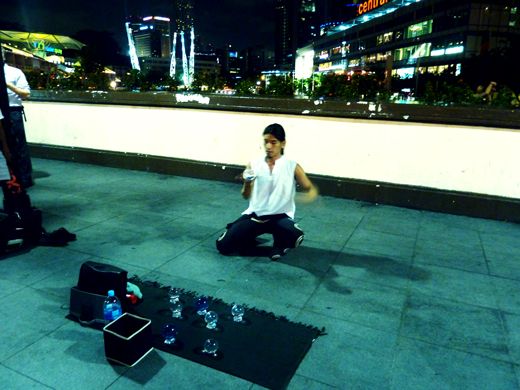 Passed by this guy (crystal ball busker), he's performing with a crystal ball. It totally looks like a magic show, the ball seems like floating in the air, his hands and fingers look so flexile and soft!
Entering Clarke Quay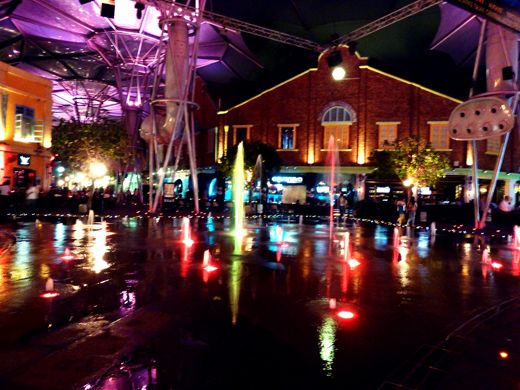 I realised there's quite a lot of water fountains in many remarkable areas of Singapore, the important thing is that they are all working perfectly and I enjoy pretty much of its water splash performance.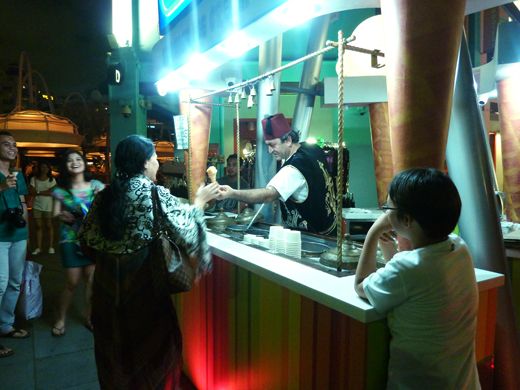 Turkey-hat man performing ice-cream cone trick to the customer who's trying to hold their ice-cream. See those people around, so happy :D Will get one from this Turkish ice-cream man and make sure he won't trick tiok me haha XD
Came across this Clarke Quay G-Max Reverse Bungee.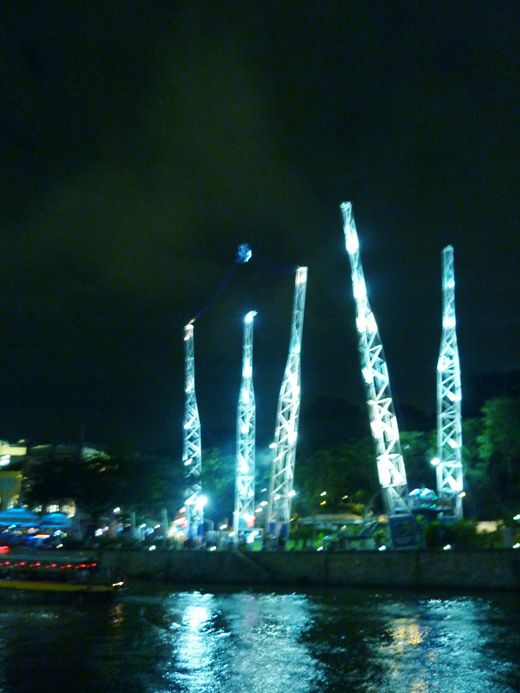 It actually works this way. People will sit inside this capsule machine, maximum 4 people I think. Then the capsule will get strapped down and hurtled into the air! Somemore the capsule is open-air what the? O.O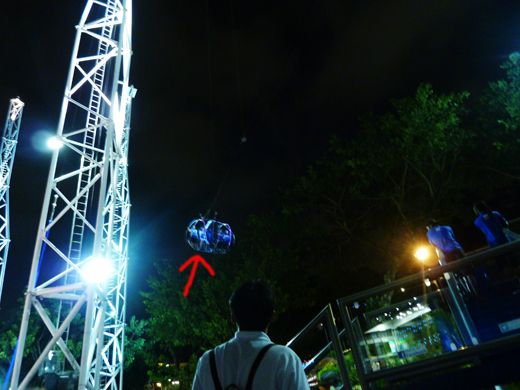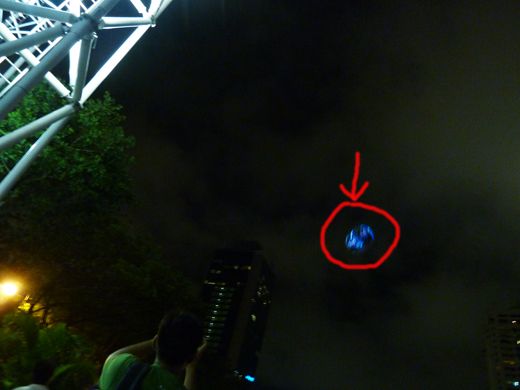 Pooofffff! out into the air!!! Do you know there's one old man sitting inside there? Young heart young heart T.T *salute* I'd probably come out of that capsule with wet pant.
Yeap that's the end of my trip for that day.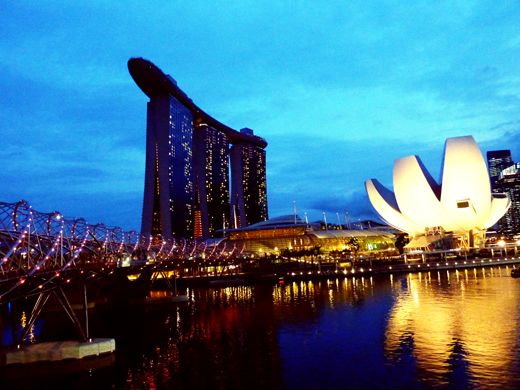 Thanks to Angel who has accompanied me that day, and the dinner meal treat! I wouldn't have gone so many places without her :) There's more place to be explored! Adventurous I like :D